They brought their Vietnamese fare to Philly 30 years ago. A glowing cafe is their latest venture.
By Rick Nichols, Inquirer Food Columnist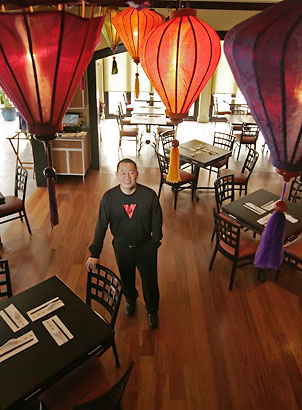 Benny Lai's journey has led him here, to the sparkling new Vietnam Cafe at 47th and Baltimore, around the corner from where the Lai family, fleeing Saigon, staked its first claim in West Philadelphia – a modest Asian grocery called Fu Wah – 30 years ago as of October.
Sparkling doesn't quite capture the cafe (nor does cafe), though a fairyland of lanterns glows above its 100 seats like a haze of hot-air ballons, and the hardwood floor is as unscuffed as a shoe just out of the box.
What it is is "evocative," with understated touches of old Vietnam (a Rivera-esque print of women hulling rice, a carved duck standing by to snap up spillage); and "impressive," a testament to an immigrant family's passage: The family Lai – 10 strong, tempered by escape across the South China Sea, stuffed in bunk beds in a two-bedroom apartment on 45th Street – did not land lightly in the city.
Fu Wah, still family-run and still making the toasted Vietnamese tofu hoagie that remains a staple of West Philly vegans, begat (in 1984) a 28-seat Chinatown eatery called Vietnam Restaurant at 11th and Vine, which begat the intimate Bar Saigon, the third-floor nook grafted on as the restaurant grew and tripled in size. More.